"Road to IABM" #2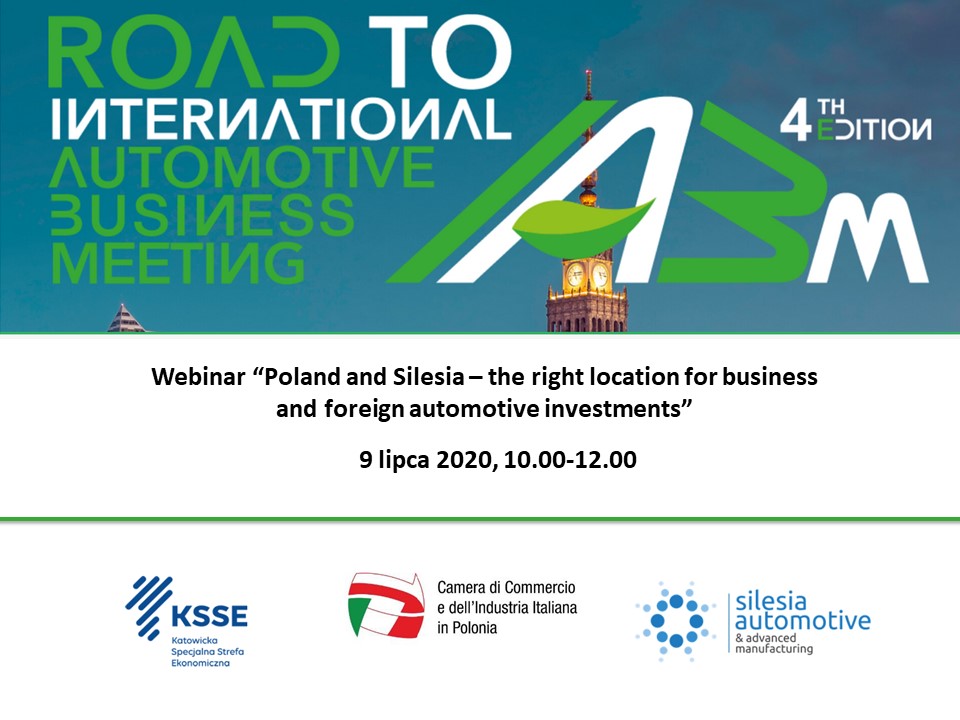 Mamy przyjemność zaprosić Państwa na drugi webinar z cyklu "Road to IABM". International Automotive Business Meeting jest kluczowym wydarzeniem dla branży motoryzacyjnej, którego celem jest śledzenie zmian w sektorze i ich wpływu na łańcuch dostaw.
Zamierzeniem Road to IABM jest dostarczenie specjalistycznych i aktualnych informacji tym, którzy na co dzień działają w sektorze automotive zbliżając się do czwartej edycji IABM (on line), która odbędzie się 20 października 2020 roku.

Webinar "Road to IABM" #2:
"Polska i Śląsk – najlepsza lokalizacja dla biznesu i zagranicznych inwestycji w sektorze automotive"
Data: 09.07.2020
Godziny: 10:00-12:00
Język: angielski
Zarejestruj się: https://zoom.us/meeting/register/tJwuceqrpzMoEtPYizp6PKVsmawajKwUygCQ



On behalf of the Italian Chamber of Commerce and Industry in Poland and the Katowice Special Economic Zone we are happy to invite you to the webinar "Poland and Silesia – the right location for business and foreign automotive investments".
The webinar is open to representatives of foreign automotive suppliers considering new investments in Europe.
The COVID-19 pandemic has shown the importance of securing regional supply chains. Suppliers need to be close to their clients. The European automotive industry is entering in the era of automated and electrified vehicles and will soon scale production and sales of customised models. Notwithstanding the restructuring or closure of car assembly facilities in some parts of Europe, Central Europe has proved to be a reliant partner in automotive value chains. As such automotive suppliers considering strengthening their position in Europe should keep in mind the potential of Central Europe, specifically Poland. A long tradition in automotive and access to internationally networked road and rail infrastructure, to well-qualified personnel, to a considerable internal market characterised by growing buying power and to specialised local suppliers, make the Silesia region one of the most attractive places for investments in automotive in Central Europe.
The webinar is an occasion to get acquainted with investment opportunities in Poland and Silesia, to get insight in the aid schemes and support services for foreign investors and to hear the story of those suppliers who invested already in this region and enjoy being in Silesia for many years now.
10.00: Welcome
Piero Cannas – President, Italian Chamber of Commerce and Industry in Poland
Mateusz Rykała – Vice-President, Katowice Special Economic Zone
10.15: Poland – an attractive location for foreign automotive investments
Grzegorz Słomkowski – Polish Investment and Trade Agency
10.45: Silesia – the right location for foreign automotive investments
Łukasz Górecki – Cluster Manager SA&AM
Piotr Dembiński – Nexteer Automotive
Yasukazu Hijikata, Piotr Słowik – NGK Ceramics Polska
11.30: Discussion – moderator Luk Palmen – Innovation and Cooperation Manager SA&AM Cluster
11.50: Summary of the webinar
12.00: End