"Green logistics" SA&AM Clusters's workshop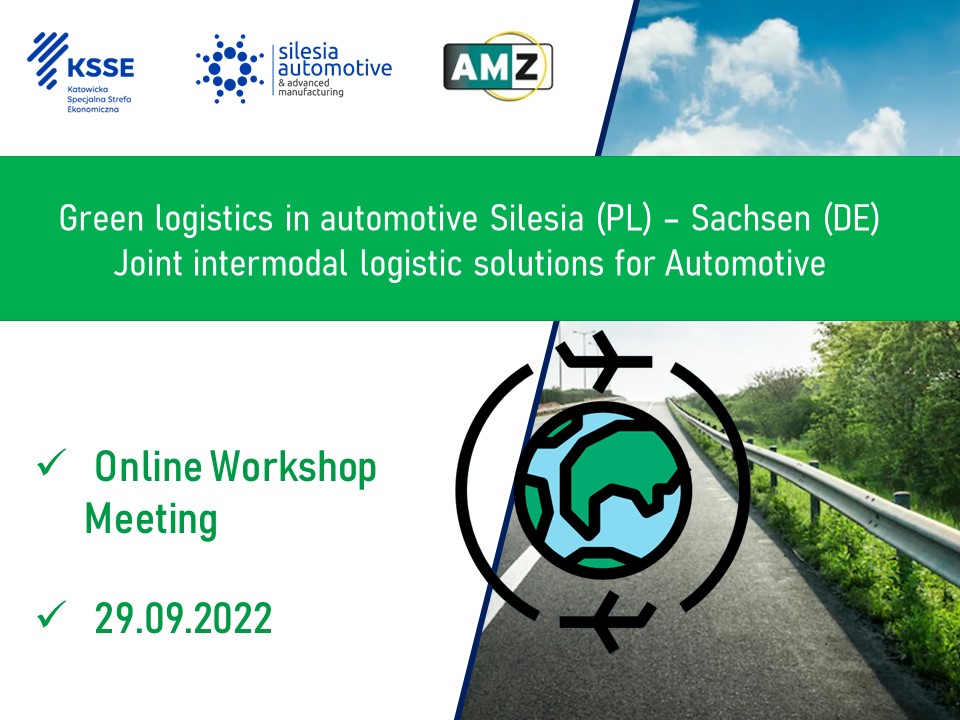 Green logistics in automotive Silesia (PL) – Sachsen (DE)
Joint intermodal logistic solutions for Automotive
Online Workshop meeting
29.09.2022
Due to technical reasons, the meeting planned previously in Katowice will be organized online through MS TEAMS
On behalf of the cluster Silesia Automotive & Advanced Manufacturing and the cluster AMZ Sachsen, we cordially invite you to participate in the workshop meeting "Green logistics in automotive Silesia (PL) – Sachsen (DE). Joint intermodal logistic solutions for Automotive."
The meeting follows previous discussions between representatives of VW Group, the SA&AM cluster, AMZ Sachsen and companies in the logistics sector.
The main goal of the September workshop is to bring together automotive suppliers, logistics companies and automotive OEM to develop a concept for green intermodal logistic solutions for the automotive supply chain between Silesia and Sachsen.
Agenda
12.55 MS TEAMS connection (link available after confirming attendance)
13:00 Welcome - Luk Palmen, Innovation & Cooperation Manager SA&AM and Dirk Vogel, CIO AMZ Sachsen
13:05 Green logistics in automotive. Challenges regarding the transport in the supply chain.
Marcel Koch, Koordination Materialflussplanung Inbound, Volkswagen Sachsen GmbH
13:15 Smartrail - the CAPTRAIN experience
13:25 Workshop - moderation: Luk Palmen
The main building blocks for green logistics between Silesia and Sachsen
The impact of green logistics models on suppliers, prognoses, production planning and stocks
Scenario development for green logistics between Silesia and Sachsen
14.45 Summary
15.00 End of meeting
Please send the organisation's confirmation to participate in this meeting to the following address: lpalmen@silesia-automotive.pl